India halts wheat export to fight soaring inflation in the country
May 16, 2022
Following a sharp increase in the price of wheat, India placed it in the "prohibited" list. The Centre endorsed the action in a Saturday announcement, saying it was being done to manage the country's overall food security and help neighboring and vulnerable nations.
Exports, on the other hand, will be permitted dependent on authorization provided to other nations to satisfy their food security needs and on their government's request, according to the Centre's message. Wheat and flour prices have increased dramatically in India as the country ramps up exports following a roughly 40% jump in worldwide rates in the aftermath of the Russia-Ukraine crisis.
Traders forecast wheat output at 95 million tonnes (mt) this year, compared to official estimates of 105 mt, implying tighter local supplies and higher prices. Wheat is currently priced at Rs 2,550 a quintal (100 kg) at Kandla port, having recently surged sharply as exporters tried to speed up shipments in anticipation of government restrictions.
Wheat procurement's minimum support price (MSP) is Rs 2,015 per quintal. In April, retail inflation in wheat and atta increased to 9.59 percent, up from 7.77 percent in March. Because open market prices are higher than MSP, the government's wheat purchase has decreased by roughly 55%.
India has attempted to fill the void left by the war in the Black Sea region, which accounts for roughly a fifth of global wheat commerce. Egypt, the world's largest importer of wheat, recently authorized India as a supplier.
Last month, Food and Commerce Minister Shri Piyush Goyal stated that India aspires to become a permanent wheat exporter, shipping as much as 15 million tons this year, up from 7.2 million tons in 2021-22. According to Goyal, officials are urging the World Trade Organization to ease laws so that India can sell from its state reserves.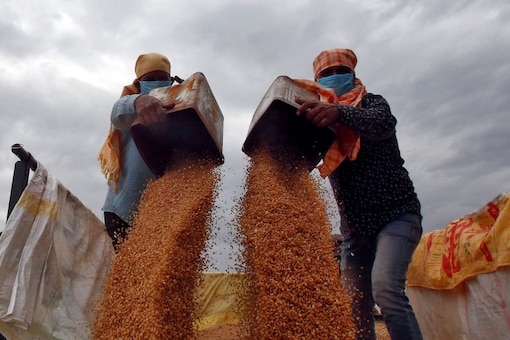 The reason behind the ban on wheat exports
Internal considerations such as record low wheat procurement by government agencies, poor yield in key wheat-producing states owing to adverse weather conditions, increasing wheat prices, and spiraling inflation may have influenced the government's decision to prohibit wheat export with immediate effect.
In recent months, private players acquired a substantial quantity of wheat at prices above the MSP, causing market prices to rise as farmers decided to sell their wheat on the open market. In less than two months, Indian traders are expected to export over 4 million tonnes of wheat, with approximately 1.2 million tonnes already transported abroad. Many farmers also held back their stock in anticipation of higher prices.
Heat impact on wheat production
Hundreds of acres of wheat crops were destroyed during India's warmest March on record, potentially lowering output by up to 50% in some parts of the nation. Regardless of whether or not exports proceed, according to Franck Gbaguidi, senior analyst at political risk consultancy Eurasia Group, crop damage would limit India's capacity to satisfy larger supply gaps.
"With the present impact of the heat waves, India's pledge to feed the world' by exporting wheat stockpiles – assuming the World Trade Organization grants permission – now sounds hollow," he added. RBI Governor Shaktikanta Das said inflation pressures are growing more intense, particularly on food, in an online briefing.
Wheat retail prices were roughly 29 rupees per kilogram on May 5, up nearly 7% from a year ago. According to government data, flour prepared from the grain traded at around 33 rupees, up 8% from the previous year.
What will be the impact of the wheat export ban?
A scarcity of wheat has produced a jump in wheat flour prices in the domestic markets in recent weeks due to surging demand and higher prices given by private dealers. According to estimates, the monthly average retail price of wheat flour (atta) in India in April, 2022 was Rs 32.38 per kg, the highest since January 2010.
Wheat export restrictions will assist to stabilize market prices and bring them closer to the MSP. This might assist consumers to absorb the effects of growing inflation by lowering the price of wheat flour on the market. The Centre's action will assist government agencies in increasing procurement from states where it has been trailing.
Private dealers will be obliged to unload stocks built up in expectation of more price increases. Wheat market prices are projected to fall as a result of this. Traders are presently holding between 1.4 and 2 million tonnes of wheat, according to sources.
However, other analysts believe that the decision is anti-farmer. Rather than imposing a blanket ban, the government might have gradually screened shipments. As per agricultural economist, Ashok Gulat of the Indian Express, a minimum export price (below which shipments cannot take place) or a tax may have been established to assist farmers to earn more while stabilizing market prices.
Government's U-turn on the export ban
After Prime Minister Narendra Modi made a speech about "feeding the world" in the aftermath of the Russia-Ukraine war a few weeks ago, the policy shift is sure to be criticized. Food Secretary Sudhanshu Pandey said last week that there was no strategy to curb wheat exports, despite reports to the contrary.
"We expect a 60 lakh MT decrease in wheat production this year. The government is still in a surplus in terms of overall grain management. Government organizations are buying less due to rising market prices and increased private demand. Farmers are receiving a terrific deal, and they are only selling to the government what they are unable to sell on the open market. I don't understand why exports should be restricted; just 10 lakh MT were shipped in the first quarter, and the contract for the first quarter is for 40 lakh MT," Pandey added.
"Wheat export is already happening, there is no ban, and the government is giving exporters more market access," Pandey asserted.
Click here to join our Telegram chanel
You will get information, news, and support related to Merchant Navy.