Dead Diver and Cocaine Found After Bulker Docks in Australia
May 10, 2022
After the body of a diver was found along the coastline and packages thought to contain cocaine were subsequently discovered in the port, Australian police and border protection agencies are examining a bulker that landed in Newcastle over the weekend.
Authorities stated the port had been under surveillance as a possible drug smuggling hotspot, but the peculiar circumstances of this incident have led them to assume it is part of a wider smuggling operation. Detectives are looking for another 200 kg of cocaine after only finding "a part" of the cargo beside the body of the diver.
After a journey from San Lorenzo, Argentina, the 60,000 DWT bulker Areti docked in Newcastle on Sunday, May 8. The Marshall Islands-registered vessel is delivering a shipment of soybean powder and was routinely examined upon its arrival.
Police were sent to the harbor on Monday morning after a diver was discovered unconscious along the coast. The diver was pronounced dead at the scene after attempts to revive him failed. When the guy drowned, police believe he was attempting to retrieve up to 300kg of cocaine from a bulk carrier.
They have so far recovered 50 kilograms worth A$20 million (US$13.8 million), and the hunt for the bulker, harbor, and shoreline is still underway. The police told the media that there may be a total of A$100 million (US$70 million) in cocaine involved without explaining their reasons.
Investigators have identified the individual, who is from South America, and believe he entered Australia illegally before the boat arrived. "I can confirm it appears to be a lot more than what has been retrieved from the ship," Organised Crime Squad Commander Detective Superintendent Rob Critchlow said.
"Investigations are going very, very well — it appears that the amount we originally found was just a portion of what was actually brought in on the ship." "We have information indicating that more drugs have been retrieved by this group and are now at large in the community," he said.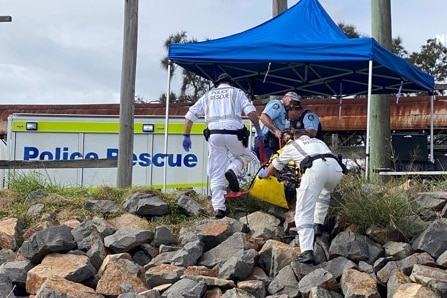 The man was left to die
On Monday, police were called to Heron Road on Kooragang Island after reports of an unconscious diver on the shore. Despite the efforts of bystanders and doctors, the unidentified guy died on the site. Due to the complicated nature of scuba diving, Detective Superintendent Critchlow previously stated that "evidently more people were involved than the dead guy."
According to security footage from the harbor, two tiny boats approached the bulker overnight on Sunday, one an inflatable and the other a small aluminum boat, probably in an attempt to discover the narcotics.
"The existence of two boats suggests at least two more people," he continued, "which is really troubling since this man has effectively been left to die." The victim was either left to die, or when he did die these people fled.
Someone floating in the ocean was initially noticed by port personnel. It was obvious he was wearing diving gear and some highly specialized gear. It included a rebreather, which is a device that allows individuals to stay underwater for extended periods of time without producing bubbles.
On Tuesday, police divers were scheduled to return to the ship to further inspect the hull. Meanwhile, police are examining nearby diving shops and appealing for the public's assistance in locating anybody who may have purchased this advanced diving equipment in recent days. A review of police databases yielded no results in identifying the dead.
Watch news here:
Click here to join our Telegram chanel
You will get information, news, and support related to Merchant Navy.